How does Magabox Work? | Working, Features, Advantages
Sep 30,2023 | MagaBox
Getting a Maga Android TV box can take your web series and movies watching experience to a whole new level. Nowadays, people like to spend their leisure time most likely watching a web series, documentary, movie, or sitcom via various OTT platforms such as Netflix and Prime Videos. Most of the users make use of their small screens on phones or tablets to view them. That is because only an Android TV or Smart TV can let them view these entertaining shows on big screens. The Maga Android TV box has been a boon to them in that case. It can be effortlessly plugged into the AV port or HDMI port of any television to avoid watching online shows on a small screen. In this article, we will find out about the working of a Magabox MG4 (Android TV box), its features, and its benefits.
1. What is Maga Box Android TV box?
Magabox MG4 is an android box or a streaming device that can be plugged into any television, including those which don't have smart capabilities. The box runs on the advanced Android operating system (the same operating system used to run most smartphones and tablets). With the help of the internet, you can view your favorite shows online via the Android TV box.
TheMaga android TV box offers smooth and HD quality streaming even with little internet speed. Despite watching your favorite shows, you can even listen to your favorite songs via various Apps like Spotify, Sound Cloud, Last FM, Media Player, etc. You can play offline videos via a pen drive too. The box also offers free services without any extra charges. The build-in chrome cast support helps you directly cast a video straight from your tablet, phone, and desktop browser.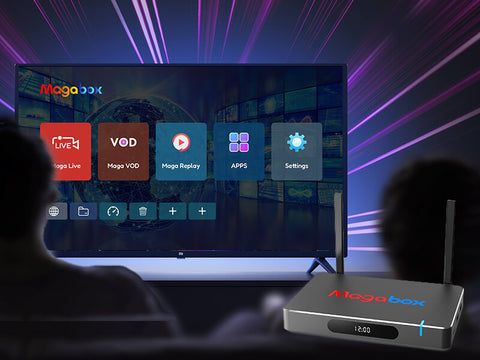 2. Why MagBox MG4 Android TV box?
The android TV box is preferred over other TV boxes like Apple TV, Amazon Fire Stick, or NVIDIA because of its flexibility, navigability, and the availability of more options and applications. The user-friendly android operating system provides various useful options and features to enhance the user experience. The android TV box is considerably cheap compared to other TV boxes. It also enables gaming option to the users.
3. How Does MagBox MG4 work?
TheMagabox MG4 Android TV can be connected to any TV which has an AV port or HDMI port. Unlike Stick or Chrome Cast, the android TV box has various features like USB, SD card and Ethernet ports, etc. The box also has a built-in Wi-Fi and Bluetooth facility that enables smart usage of the network. The android TV box works with a user-friendly android operating system version 9 (Android Pie) that can be upgraded to higher versions. The operating system enhances the box to accesses the play store which contains useful applications like web browsers, music, and on-demand video applications, and gaming. TheMagabox android TV box can be accessed via an IR power TV remote which can also control the Television.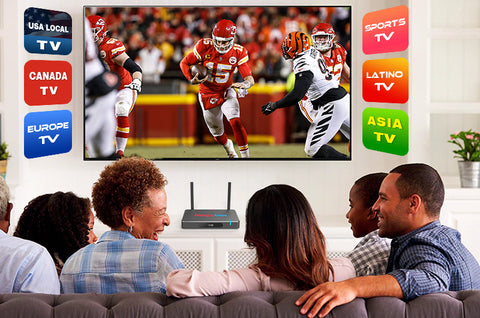 TheMagabox MG4 can be connected to the home router via both the Ethernet port and Wi-Fi to access the internet. The router should be placed near the android TV box to have a more stable connection. TheMagabox MG4 is equipped with a quality power adapter that offers stable power to the TV box. The AV cable or HDMI cable is used for interfacing the Android TV box with the TV. The external storage device like pen drive, SD card, and hard disk are used for additional data storage and to access offline media. The USB slot also supports peripheral devices like a keyboard and mouse for easy access. In addition, theMagabox MG4 offers a seven days' playback feature.
4.MagBox MG4 Features and Hardware Specifications
TheMagabox MG4 android TV box chipset powered with Quad-Core ARM Cortex-A53 Processor offers smooth processing speed and incredible performance without heating the hardware chipset. Moreover, the box comes with 2 Gigabyte DDR3 RAM for loading ultra-high definition media and even games effortlessly. The TV box is inbuilt with 16 Gigabyte internal storage that is used for storing and processing the application with expandable memory up to 128 Gigabytes using Micro SD(TF). The external dual omnidirectional antenna helps in boosting the range of the Wi-Fi and increases the bandwidth capacity. The MG4 android TV box supports USB 2.0 and USB 3.0 that offers a high data rate.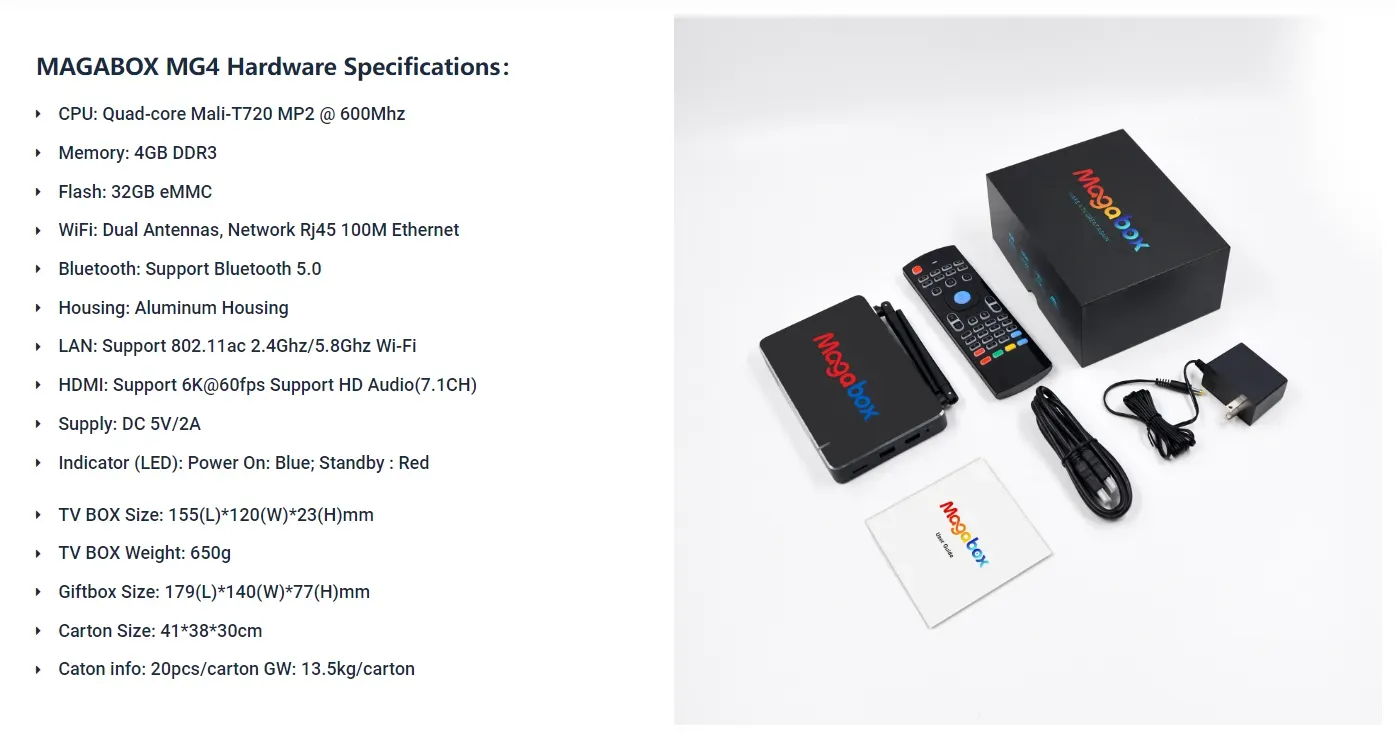 The inbuilt Wi-Fi module supports all standards such as 802.11/a/b/g/n/ac with dual-band 2.4 and 5 Gigabytes for data transfer. The Ethernet port offers uninterrupted internet access up to 100 Megabytes per second. Note - at least a bandwidth of 25 to 100 Megabytes of stable connection is required for smooth streaming. The power adaptor supports the voltage range from 110V to 220V at 60 hertz to provide stable output. TheMagabox MG4 android TV box offers ultra-high-definition with up to 6K resolutions with 60 frames per second to get the highest-quality details in a video. The outer protective box is designed in the way that it ventilates more air to reduce the heating of the hardware that helps the processor to work seamlessly.
The compact android box remote control is designed to effortlessly control the android TV box that also includes a cursor option. A single box remote control can establish dual control accessing both android box and TV. The Bluetooth module in the box also helps the user to establish a connection with their phone, keyboard, and mouse.
5. Advantages of MagBox MG4 Android TV box
The user doesn't have to pay a subscription fee or extra charges for watching free channels, or for using the applications of the

Magabox MG4

. The user only has to pay for the android TV as a one-time payment, and then they can download all the recommended applications.
With the

Magabox MG4

Android TV box, you can access more than 1000 live high definition premium channels for free, which includes live news, sports, political entertainment, kids special, and TV shows. also provides channels in various languages and categories like network TV, regional and local channels, sports network channels, 24/7 channels, News channels, NBA, MLB, NFL, NCAAF, NHL, Canada (English & French), Latin (Spanish), or Filipino.
The free box channels are updated automatically in the

Magabox MG4

every day between 12 Pm to 5 Pm. Here is the

link to check the list of updated Free channels.
The entertainment channels offer free access to 20,000+ movies and TV series Available in all genres like Popular, New, Classic, Action, Adventure, Animation, Comedy, Crime, Documentary, Drama, Family, Fantasy, Horror, Musical, Mystery, Romance, Sci-fi, Sport, Thriller, War, Western, 18+movies, etc.
All Live sports channel packages are available in HD quality without freezing or loading error. The sports channels include American Football, Baseball, Basketball, Ice hockey, Cricket, Soccer, Boxing, Golf, volleyball, MMA, etc.
With a 7-days Playback function offered by the

Magabox MG4

android TV box, the user can navigate to the playback option if they miss their favorite sports telecast, important news, or movie.
The MG4 TV box supports brilliant picture quality of up to 6K Ultra HD resolution and High Dynamic Range so that the user can experience highest level of clarity, detail, and smoothness.
The

Magabox MG4

android TV can be used in many countries. With a proper internet connection and television, it can work in almost any country.
6. Unboxing of the Maga Box TV
TheMagabox MG4 android TV box package contains a perfectly crafted Maga hardware module, a remote control, a power adapter, an HDMI cable, and a user manual. The package covers a warranty period of one year for theMagabox MG4 Android TV box. Surprisingly, it takes only 5 minutes to assemble and install the entire setup. There are user manuals with step-by-step instructions for the configuration available with the package. You can also find the complete setup process on this YouTube video.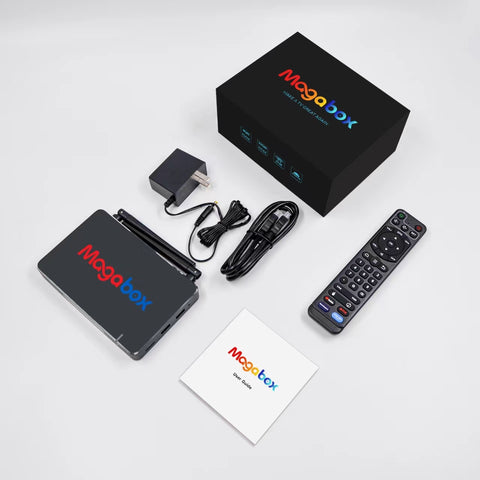 The Final Word
The
Magabox MG4

Android TV box is one of the best devices that converts a regular television to a smart device. It offers similar facilities as that of a phone or a tablet and with a bigger screen. The best Android TV box should have the best picture quality, with the fastest processing speed, less data-loading time, and an updated hardware module, and must have the latest version of the operating system. So the priority must be to choose a good processor having a quad-core, 4 Gigabytes or more RAM (to store and process the applications), and a TV box that delivers crystal clear picture, quality of 4K resolution or above. The

Magabox android TV box fulfils all these criteria. It has a quad-core processer boosted with 4 Gigabyte RAM to speed up the processing rate. Also, with its chipset, the Android TV box can provide 6K UHD, providing you with the best TV viewing experience.

Hope this helps!

Product: MagaboxMG4
Comment